Boca Raton Christian School Admissions Online
Dear Prospective Boca Christian Parent: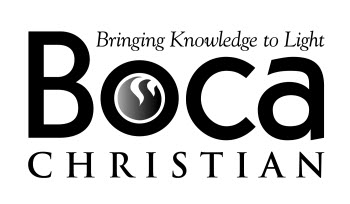 WELCOME TO ONLINE APPLICATION! Thank you for pursuing a Christian education for your child. Established in 1973, our 580 students represent over 100 local churches! The love of the Lord is at the heart of the school and that is what unites us as a school family. We look forward to your family joining us.
The mission of Boca Christian is to encourage students to know, love, and serve Jesus Christ, and to provide for academic excellence. Our goal is to provide a well-rounded quality Christian education for students. Our desire is to build young lives with strong spiritual foundations along with high moral character. In this secular age where standards are undermined, Boca Christian strives to build lives on the standards of God's Word, the Bible. Boca Christian also has a long tradition of maintaining high achievement, providing a well-disciplined, caring and challenging instructional environment.
It is our belief that the needs of the whole child must be met and growth in the following areas is necessary: spiritual, moral, personal, social, academic and physical. Ecclesiastes 4:12b states "that a cord of three strands is not quickly broken." Boca Christian believes in the importance of a team approach with the home, school, and church working together. When these are working closely together we have the greatest opportunity to encourage children to grow in the nurture and admonition of the Lord. (Ephesians 6:4) The homes that will receive the greatest benefit from the program at Boca Christian are homes that are meaningfully involved in their local church and where parents have come to faith in Jesus Christ. (John 1:12, 3:16)
Boca Christian is accredited by the Association of Christian Schools International, the Florida Council of Independent Schools, AdvancedED/Southern Association of Colleges and Schools, and the Florida Kindergarten Council.
Boca Christian has twice been the recipient of the National Blue Ribbon School of Excellence Award. The average student at Boca Christian achieves significantly above grade level based on national norms. In 2016, based on the Terra Nova 3 standardized testing, over 89% of BRCS K5-11th grade students scored at or above grade level in reading, math and language arts. Our 2018 graduates will include two National Merit Commended Students (top 3% in the nation) and one College Board National Hispanic Scholar (top 2.5% in the nation).
The K5-8th grade programs may include computers, art, music, library skills, physical education, Spanish or French. Our band program starts in grade five. High School includes honors, advance placement, dual-enrollment, art, drama, music, marching band, and distinctive annual mission trips. We also offer FHSAA highly competitive athletic programs for 6-12th grade. A private BRCS tutoring program is also available. We offer full-day programs for students PreK3-12th grade. VPK4 includes morning, afternoon, or full day programs. Our PreK3 and K5 have half-day options available. We offer extended school for Pre-K3 through 5th grade. If you are interested in our Home Education options, please call the school office for details.
To begin the Online Application process, Create an Account. Then log into your account and Create A New Student Application for your child. You will then have the flexibility to log in and out of your account and access your open application. The registration fee for all new students is $250.
Please bring your child's grade appropriate reports cards and standardized test (as described in the application) to the school office. Upon receipt of these documents, your application will be reviewed. VPK4 does not have a registration fee, as the State of Florida prohibits a fee for VPK.
Admissions testing of all new students is required. Testing will be scheduled after receipt of the application, required documents, and registration fee. (PreK3 students are evaluated separately during the parent interview.) An interview with a member of the Admissions Team is required of all parents. In addition, students entering grades five through twelve will also be interviewed. Two teacher and one church recommendation form must also be submitted for grades five through twelve. One teacher recommendation form is required for students entering grades two through four. Check the website for Open House, testing dates, and times. If you are applying for financial assistance, the information is on our Printable Forms & Documents Page. Student's financial aid forms will not be reviewed until your child has been accepted for enrollment and all paperwork has been submitted. If you have any questions or would like to schedule a campus visit, please call the main school office at 561-391-2727. Thank you for considering Boca Christian for the spiritual and academic education of your child as we look forward to their impact on the next generation.
Sincerely,

Mrs. Eileen L. Travasos, Admissions Director
Mrs. Joan V. Perry, Registrar
Boca Raton Christian School admits students of any race, color, national, or ethnic origin to all the rights, privileges, programs and activities generally made available to the students at the school.